Atlanta, Advisor, Operarational Insights, OpsInsights, OMS or Microsoft Operations Management Suite is the story of a product which have undergoing a stuble path to be the product as it is today. During Ignite at Chicago Microsoft released the newest preview of OMS which in the future will be the primarely interface to monitoring your infrastructure – no matter if your are doing on-prem or Azure monitoring of your IT Services.
OMG OMS
OMS is a Cloud Service that are able to recieve data from your individual servers or your System Center Operations Manager installation, where the SCOM MS server are being used as a gateway for your infrastructure to send logs, performance info and result of the checks your Agents are doing on your servers. But it dosn't stop with these informations since you are able to choose between a number of what Microsoft calls "Solutions" a kind of intelligence pack (the "old" name), and currently there are 12 individual Solutions to chose from – but in the future it will be possible to buy solutions from 3' part vendor such as Coretech or other solution developers. And OMS is already a fast growing cloud service, right now Microsoft have more than 10.000 customers and more than 52.000.000.000.000 records regarding the customers. And I must confess – this is the fastest solution for querying logs, assets and other big data.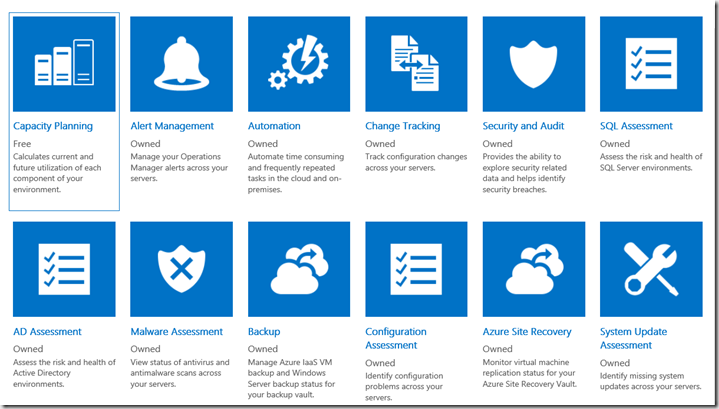 Building your first Dashboard
Begin your journey by going to www.microsoft.com/oms and either logon with your existing account or create a new one. If you have created the "old" OpsInsight Dashboard you will automatically be upgraded to the newest version. If you start from scratch try to add some Solutions no matter if you have Agents or not – when you add your agent the data will start to flow.
Connecting from a SCOM server
Your on-prem SCOM Management Group are a great source for sending data to OMS – Just ensure you are upgraded to latest SCOM 2012 R2 UR – 5 or newer. In your SCOM Console click Administration and below Operational Insights Connection, Register to your OMS environement by logging into your OMS account.

When OMS is connected to your Management Group you are able to see it in the OMS: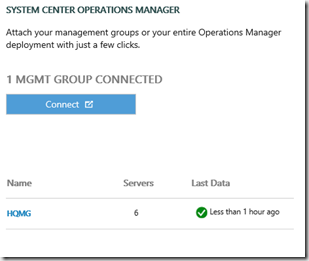 Adding your individual servers which are not already covered by SCOM
For a lot of companies the modern IT Service are a hybrid of internal secure servers behind a Firewall and "external" servers located in a DMZ or directly on the internet – if you need to deliver data from a server not in your internal SCOM Management Group you could download an Agent directly from OMS – In OMS: Click Settings, Connected Sources and below Attach Servers Directly click Download Windows Agent. Copy the Workspace ID and the Primary Key and use those numbers when configuring the Agent.
Using the same agent to deliver data to both your SCOM and OMS solution
Agent compatibility between the native SCOM agent and the OMS agent are currently not working, but its easy to solve – Just download the OMS agent and use the Workspace ID and Primary Key, keeping the SCOM MG configuration. So now you are delivering data both to OMS and your SCOM MS.
Last but not least – Windows Phone Modern Tiles support
Yes, we already have an Windows phone app to look into our OMS dashboard or running your own queries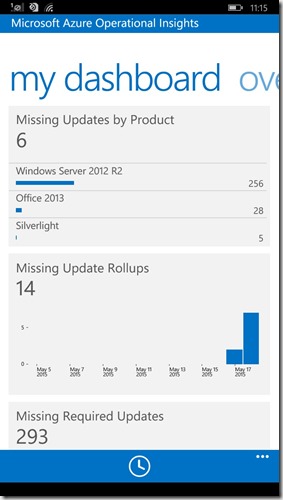 More information:
Have a great day
Kåre