During a recent SCCM 2012 installation for a customer, we ran into some strange problems with the Reporting services point and the SCCM console.
For this particular project we opted for installing the SCCM Site Server and the Site database server on two seperate servers.
Everything was went peachy until I got to the point where I started implementing the Report services point.
The roles was installed without any errors or warnings in the logs, The reports showed up in the Report Manager website as expected.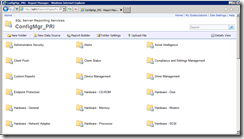 However no matter what I tried, no reports would be visible inside the SCCM console.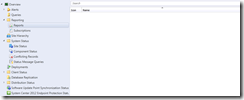 And at some point I came to a conclusion that this was caused by some kind of security issue between the two servers, so I started poking around with the Reports Services Security and I got nowhere.
Everything worked perfectly from the SQL Server but from the other server, I was either denied access or prompted for credentials repeatedly without ever getting access.
And still nothing to see in the console …
After having tried just about all settings I could think of, I reverted everything back to basics, took a look at my test setup at home, which also was a two server setup and had no problems with the Report services point. The only difference I found was the fact that my test setup was running the SQL Server Reporting Services service as Local System, the customer was running all SQL Server services using domain account (as recommended).
So I tried flipping that switch and was excepting more of the same.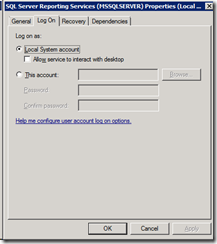 But no, I suddenly had reports inside the SCCM console and was able to access reports from any machine with working credentials.