In my opinion, one of the greatest improvements in Orchestrator compared to Opalis is the extended web service.
Opalis did have a web service too, but the Orchestrator service has a more functionality.
One way to utilize this new web service is by using PowerPivot for Excel.
PowerPivot for Excel is an addon developed and published by Microsoft. You can read more and download a trial here
using PowerPivot for excel , it is possible to connect to all different types of data sources and create real-time reports.
It is really easy to do, specially with a web service like the one Orchestrator offers.
Open Excel 2010 and start with a blank workbook.
Select the "PowerPivot" Ribbon tab.
Click "PowerPivot Window"
Click "From other sources"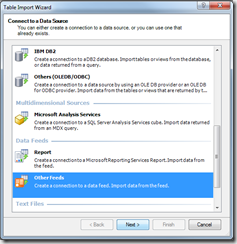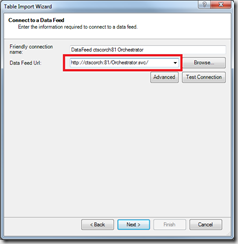 Click Next. if you want to test the connection first, click "Test connection"
Select what you want for the report. In this case we are making an overview sheet of the RunBook. therefore select "RunBooks".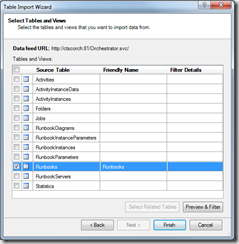 Click Finish, now you should get a result similar to this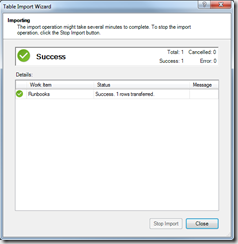 Now you have a complete list of all runbook. In this demo setup I only have one, therefore my list if pretty short 😉

Select All and copy it into the Excel Sheet. You have other options too, experiment a little with PowerPivot.