One of the many changes in the newly released SP1 is support for Windows Phone 8.1 After the upgrade only there will only be support for Windows Phone 8.0. Navigate to the Administration workspace, select Cloud Services, right click your Intune connector, Configure Platforms, Windows Phone. Notice that Windows Phone 8.1 is not enabled.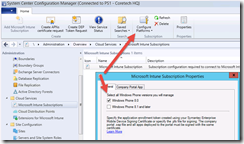 In our environment we only support Windows Phone 8.1 and we do not deploy any custom signed Windows Phone LOB applications. Enable Windows Phone 8.1 support and click OK.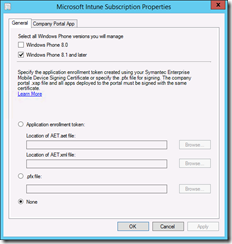 Wait until the next synchronization and you will have Windows Phone 8.1 support back.
Another "setting" I'm missing after my upgrade was the Company portal on the devices. For that I went thru the company portal signing process again and created a required deployment to all my Intune users. After that I got full support for the Company portal and Windows Phone 8.1 enrollment.