During the SQL Reporting Services site system role, SCCM automatically create a login in SQL and assign the required permissions to the account that you have specified. However I have seen several times that the account do not have the permissions required to run some of the Application reports.
When running the Software Distribution – Application Monitoring > All application deployments (advanced) report I get the following error
An error has occurred during report processing. (rsProcessingAborted)
Query execution failed for dataset 'FirstMatchingAppOrCollection'. (rsErrorExecutingCommand)
The EXECUTE permission was denied on the object 'fnGetSiteNumber', database 'CM_PS1', schema 'dbo'.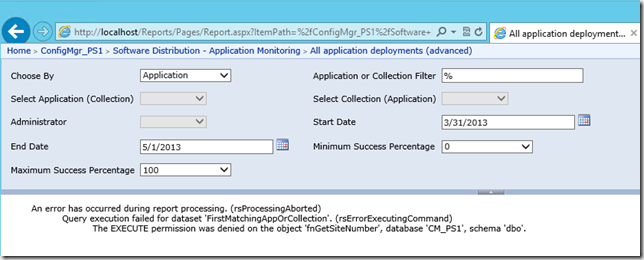 To solve the problem do the followoing:
Open SQL Server Management Studio and navigate to Databases, CM_<sitecode>.
Open the database properties and select Permissions.
Click OK and run the report again. This time you can select your applications and collections.