In ConfigMgr 2012 SP1 you might run into the Automatic Client Upgrade feature being greyed even if you are a full administrator. In this example I have a group called ConfigMgr Administrators that has been assigned Full Administrator rights but are still not able to enable the Automatic Client Upgrade settings.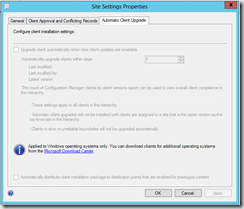 To fix the issue log in with the account that installed the primary site server. In the Administration workspace, select Security, Administrative Users and open the properties for the ConfigMgr Administrators group.
Click OK and all users in the ConfigMgr Administrator groups are now capable of enabling the Automatic Client Approval feature.