Microsoft has collected all of their SMA tools into one tookit called "SMART"
Info from their technet gallery item:
The SMA Runbook Toolkit (SMART) is a collection of Service Management Automation (SMA) related tools. They are all PowerShell-based and provided as samples, to help achieve the following tasks: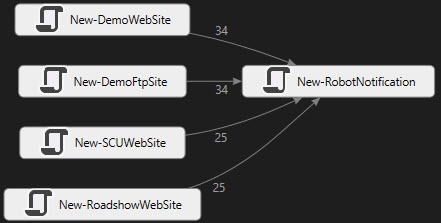 Visualization and Dependency Mapping Tool 1.0 – New!
This tool lets you browse SMA Runbooks and export their dependencies to the PowerShell console, Visio, Word and/or Visual Studio. Once runbook tendencies have been computed, the Visual Studio export is particularly fast and has a nice automatic layout in DGML.
This is a new tool in SMART, and you can find more details in the dedicated blog post available here.
TIP: You can remove the need for visual studio to be installed by changing line 1293 in SMART-VT.ps1 from
If (Test-Path "HKLM:\Software\Classes\.dgml\")
to
If ($true)
and the buttons will always be enabled, making it possible to run on a server without VS installed.
(one of the great advantages of PowerShell Tools is that you can edit them yourself!)
Import and Export Tool 1.2 –Updated
The Import and Export Tool created by Jim Britt was the very first entry in the SMA Runbook Toolkit.
In this release, the tool/engine files are unchanged, but we added a graphical user interface to help get started with the tool.
For more details and instructions, you can refer to Jim's post here, and to the documentation he included in the package. To leverage the new user interface, you just need to right-click SMART-IE-GUI.ps1!
Documentation and Conversion Helper Tool 2.01 – Mostly unchanged
This tool is geared towards Orchestrator users, to help understand current Runbooks, visualize/document them with Visio and/or Word, and also aims to help with moving to SMA concepts.
This release only has a couple lines changed for alignment with other tools and some tips/fixes reported, all listed in the documentation included in the download package. You can also refer to the blog post from the previous release for more details.
Original Blog post:
http://blogs.technet.com/b/privatecloud/archive/2014/09/23/updated-sma-runbook-toolkit-smart-download-with-new-visualization-and-dependency-mapping-tool.aspx