This will be short and sweet as I am not fond of typing nor do I wish to waste your time with wordy explanations. If you require more details, simply reply to this blog and I will do my best to assist.
ENVIRONMENT/SCENARIO:
The environment is ConfigMgr (CM) 1710 with a slew of Win7 Lenovo models in dire need of Win10 1709 in-place upgrades. Delivery of Win10 1709 is by way of a CM Task Sequence (TS) with no out of ythe ordinary configurations that would be noteworthy.
CHALLENGE:
I recently ran into a frustrating challenge where my Win7 to W10 1709 in-place upgrades were consistently failing on multiple Lenovo models (I read that this has occurred on HP's as well). Parsing the setupact.log in $WINDOWS~BT\Sources\Panther, amongst the numerous false negatives there was this:
Error MOUPG CSetupManager::ExecuteInstallMode(742): Result = 0xC1900208
Error MOUPG CSetupManager::ExecuteDownlevelMode(347): Result = 0xC1900208
The light-bulb did not truly go off right at first, I ended up running the upgrade manually (double smashing Setup.exe) to get more insight and I was presented the following: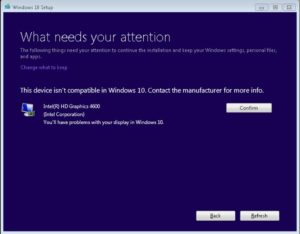 As you can see, I was prompted with a non-compatible device in the form of the Intel(R) HD Graphics 4600. After locating some additional insight and information through web searches that helped to put the pieces together, I then found an article by the fake Coretech that pretty much described the challenge to a T.  You can read it here if you would like, but do not waste your time with their unnecessary "workaround", you are reading a blog from the Real and Original Coretech . . . We have a Resolution!!! 😉
RESOLUTION:
Instead of scripting to never install driver software from Windows Update, removing the display adapter and locating and deleting the OEM driver per the fake Coretech post, simply do the following in your in-place upgrade TS:
1. In your Upgrade Operating System step, select the "Ignore any dismissible compatibility messages" radio button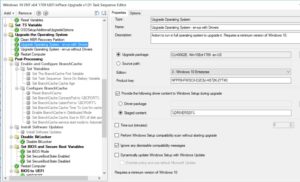 Ther ya go! That really is all you need to do to get your Win7 to Win10 in-place upgrades back on track if you are running into DownLevel 0xC1900208 error codes!!!
Huge thanks to @fmtrout  for banging heads with me on this one!!
Happy Bye Bye Win7 days!!!